More About Hypnos Beds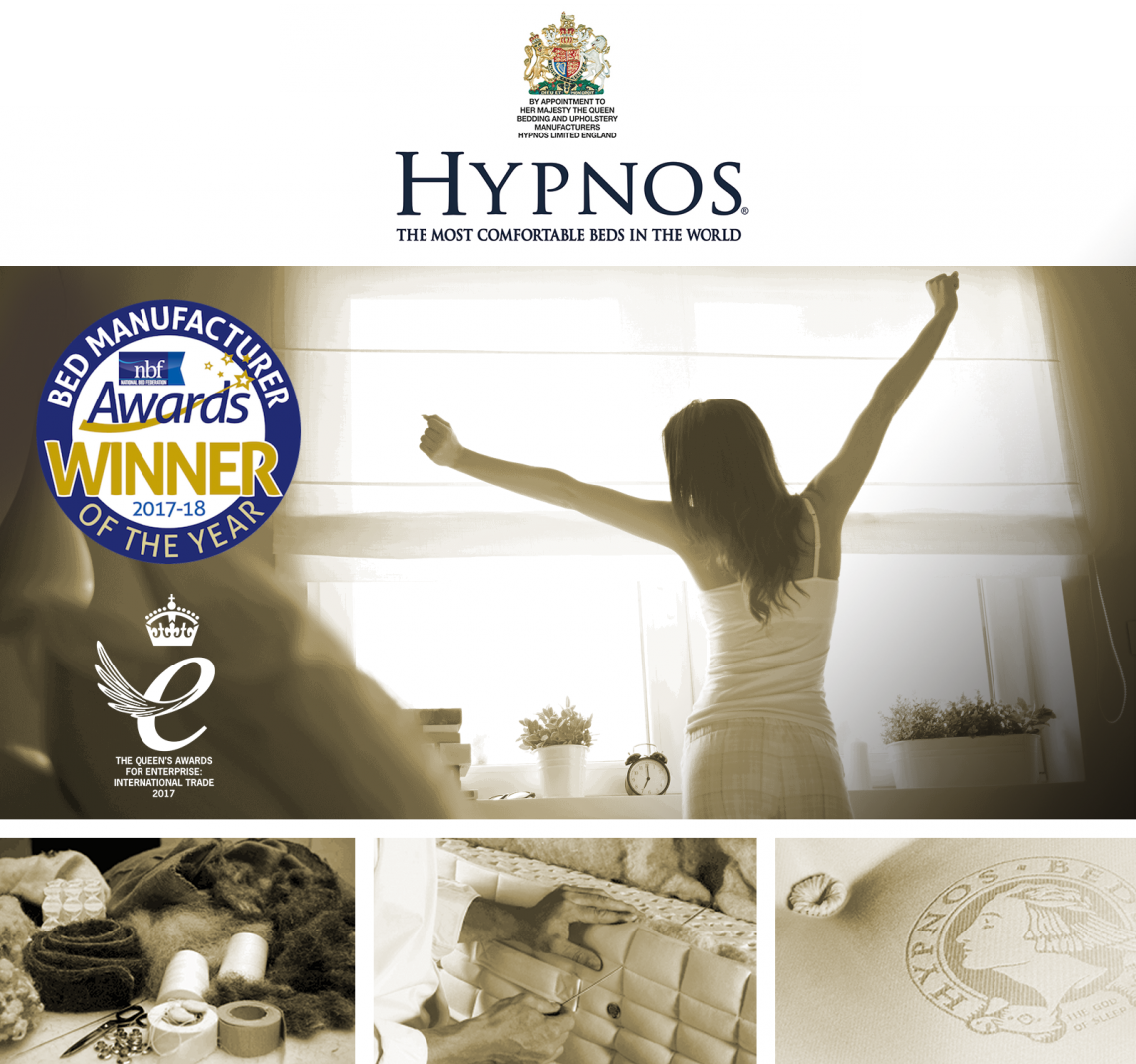 ---
Hypnos is a British family-run bed making company. Peter Keen, their Chairman, is the fourth generation to run the business, his son, James, and daughter, Sarah, are the fifth generation of Keens' to help run the company on a day to day basis.
In fact, Hypnos has been practising and perfecting the art of making luxury pocket spring beds by hand since Edwardian days. With over 100 years of bed making experience and insight into a great night's sleep, their philosophy and commitment focuses on the pursuit of perfection and the delivery of a deep, energising night's sleep, helping to fulfil dreams for a healthy and enjoyable life.
Hypnos' master craftsmen continue to use traditional, time-honoured skills that have been passed down from generation to generation to create an authentic piece of Great British Furniture - a sublime expression of extraordinary and lasting British craftsmanship.
Indeed Hypnos is renowned internationally as the expert in making handcrafted deep pocket spring beds. Combining traditional skills with constant innovation, and using the finest natural materials, Hypnos has a reputation for making the most comfortable beds in the world.

Each and every Hypnos bed is a bespoke creation, handcrafted to perfection, a masterpiece. Hypnos only use natural and sustainable materials of the finest quality. Their master craftsmen, their passion, their experience and their unparalleled attention to detail guarantees exceptional quality - truly, a labour of love.

A 10-year guarantee reinforces Hypnos' craftsmanship and illustrates their confidence in the quality and durability of their beds.



Award Winning Quality
Hypnos is the proud recipient of the prestigious Queen's Award for Enterprise for International Trade. This respected award is only granted to those who demonstrate the highest levels of excellence within their field. We received the award in recognition of their substantial growth and commercial success in international business, as well as driving strong year-on-year growth in overseas sales and export activity.

Hypnos is the only mattress and bed manufacturer to actively supply all the Royal Residences. A Royal Warrant from Her Majesty Queen Elizabeth II provides Hypnos with a 'mark' of excellence and reinforces Hypnos' reputation for the very best of British quality. The Keen family have held a Royal Warrant since 1929.

Hypnos is the only company to have won the National Bed Federation's (NBF) "Bed Manufacturer of the Year Award" THREE TIMES, in 2017/18, 2014/15 and 2011/12, which re-enforces the superior quality, tailoring and comfort of Hypnos' beds, plus the innovative and responsible ethos of the business. Hypnos has also passed the NBF's strict code of practice which reinforces flammability, supply chain, material cleanliness and trade descriptions compliance, providing the ultimate consumer reassurance.

Hypnos is one of the proud few British manufacturers to have been awarded the prestigious Manufacturing Guild Mark (MGM) accreditation. This mark of excellence is given to only 50 manufacturers in the UK, and is achieved through a rigorous, independently reviewed audit, demonstrating our very strongest commitment to meeting the highest standards of British design, quality and sustainability.
Awarded by The Furniture Makers' Company and the City of London livery company, this accreditation shows again to our suppliers and customers the highest importance we place on the quality of our processes. This ensures we always provide the very best in service and create handmade beds worthy of the trust bestowed by the world's royalty, finest hotels and most luxurious homes.


Carbon Natural
With their experience, Hypnos know how to choose the finest high-performance materials. They only use sustainable, natural materials to craft exceptionally restful beds that will last. Over decades, they've refined the comfort features and style elements of their beds to a selection of design options. All you have to do is choose the ones that create the bed of your dreams.
---
---